In South Africa we called this dish, Rasso, most likely derived from Rassam, the correct word. For those not familiar with Rassam, it is a delicious spicy, tangy sour soup. It is often served with dhal, rice and curries.
Many people like to pour themselves a bowlful of Rassam and sip on it. In my childhood home, Rassam was mainly made when my father had a cold. The hot spicy soup is excellent in opening up the nasal passages. In my husband's family, it was made much more often.
My mother in law gave me her recipe for Rassam. Over the years I have made slight changes. This Rassam is quite delicious. Please note that I use the term, dhania, coriander and cilantro interchangeably because it is the same herb.
Here is the recipe.
INGREDIENTS
1 tblsp. tamarind paste concentrate
3½ cups water
2 tblsp. canola oil
1 tsp. jeera powder
1 tsp. coriander powder
1 tsp. whole cumin/jeera seeds
1 tsp. whole mustard seeds
2 teaspoons combined, roughly crushed peppercorns, mustard and cumin seeds
½ tsp. turmeric powder
½ medium size tomato
½ tsp. crushed ginger
2 ½ tsp. crushed garlic
¼ cup diced onion
¼ cup dhania leaves, including stems of dhania
3-4 dried red chilies
salt to taste-about 2 tsps
A few peppercorns
A few sprigs of curry leaves, (optional)
A few peppercorns
METHOD
As there are so many ingredients, it is a good idea to have them all ready and not be scrambling to find them as this dish cooks very quickly
Retain some of the garlic peel, as this adds to the flavor
The seeds have to be rinsed and then roasted. This can be done in advance. Crush a portion of the seeds
Wash all vegetables and cut and dice
If you prefer to use fresh tamarind, take about half a golf ball size of tamarind and soak it in water to soften. Then extract pulp
Heat oil on medium-high temperature. Add the whole seeds and when it begins to splutter, add the crushed garlic with peel, ginger, curry leaves, chilies, and coriander stems
Stir fry a few seconds, the add tomato, turmeric and tamarind pulp/paste. Add water and allow it to cook
Add the powdered spices, salt and roughly crushed seeds. When it comes to the boil, it is done
Remove from stove and add freshly chopped dhania. Mix well. Taste and adjust for salt
Serve with in individual bowls or in a large bowl for people to help themselves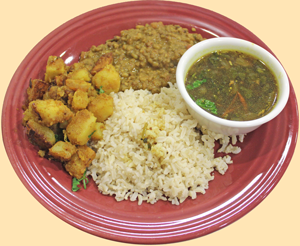 Potatoes and dhal make an excellent accompaniment to Rasso. Some Rasso has been added to the rice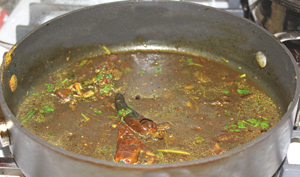 All the ingredients are in pot. Will be done after it comes to the boil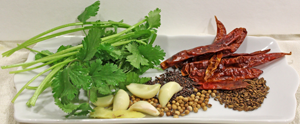 Dhania/Cilantro, garlic, red chilies, coriander, cumin and mustard seeds are a few of the ingredients
About Rassam
I am not sure how the term, King Soup originated, Perhaps it is because of all the spices that are used. If anyone has the answer please share. You may add more or reduce the amount of chilies used. There are many ways to cook Rassam, including adding dhal as an ingredient.
It is also served on special ocassions. It does heighten the flavor of the meal. This dish has no dairy products and is vegan
If you have any questions, comments, or would like to celebrate your mother as well, submit a recipe of your own via email to me, Nirmala, at:


I will respond to inquiries. The site will be regularly updated with tasty recipes and hints and tips. You will find my contact information at Contact